Event Details
Date
February 7, 2017
Time
8:00am-4:00pm
Location
Best Western Plus
503 Washington Ave
Kingston, NY 12401
Cost
$40.00 Enrolled ENYCHP Members
(additional attendee $40.00 ea.)

$60.00 Non-Enrolled
(additional attendee $60.00 ea.)
You Must Pre-Register by 1/30 for this Event


Host
Eastern New York Commercial Horticulture
Pre-Registration Deadline: February 6, 2017

EVENT HAS PASSED
2017 Hudson Valley Commercial Vegetable Growers' School and Mini Trade Show!
February 7, 2017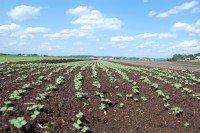 Join us for our annual CCE ENYCHP Winter School. This event will include a full day of speakers and a small trade show.

3.75 NYS DEC Pesticide Re-certification credits will be available

Please register by Monday, January 30th. You must be pre-registered to attend this event! Your registration includes a hot lunch.

8:00 Registration, DEC Recertification Sign-up, coffee and visit with our sponsors!
8:50 Introduction and Announcements - Teresa Rusinek, CCE ENYCHP

9:00 Year 2 of Our Beet and Carrot Variety Trials - CCE Crystal Stewart, CCE ENYCHP
9:20 Cover Crop Tour - See What You Missed This Fall at our Cover Crop Meeting - Chuck Bornt, CCE ENYCHP

9:40 DEC, WPS Changes and a New Municipal Code - Maire Ullrich, CCE Orange County/CCE ENYCHP

10:00 Look out! for New and Emerging Pests in Our Region - Teresa Rusinek, CCE ENYCHP

10:30 Industry Updates & Coffee Break

11:00 What's New with Crop Insurance? - Elizabeth Higgins, CCE ENYCHP

11:15 What's New with Bio-Pesticides? - Dr. Margaret McGrath, Cornell University

11:45 Minimizing Disease Risk Using Resistant Varieties and Seed Disinfestation - Dr. Margaret McGrath, Cornell University
12:15 Hot Buffet Lunch, Visit with Sponsors
1:15 Vegetable Transplant Production: Media, Fertility and Other Factors that Affect Your Transplant Quality Neil Mattson, Cornell University
1:45 Mitigating Environmental Stress in Tomatoes - Dr. Gordon Johnson, University of Delaware & Dr. Gordon Johnson, University of Delaware
2:15 Optimizing Microgreens Production- Neil Mattson, Cornell University
2:45 Break
3:00 Recognizing and mitigating stress in Cucurbit crops - Dr. Gordon Johnson, University of Delaware
3:30 Training and Pruning Systems for Cherry Tomatoes in High Tunnels - Amy Ivy, CCE ENYCHP
4:00 Evaluations, pick up DEC Sheets and Adjourn

HV Commercial Vegetable School Agenda (PDF; 78KB)