Event Details
Date
February 15, 2017
Time
9:00am- 4:30pm
Location
Poughkeepsie Farm Project
51 Vassar Farm Lane
Poughkeepsie, NY 12601
Cost
$25.00 Enrolled ENYCHP Members
(additional attendee $25.00 ea.)

$30.00 Non-Enrolled
(additional attendee $30.00 ea.)


Host
Eastern New York Commercial Horticulture
ENYCHP Organic Grower Farmer-to Farmer Conference
February 15, 2017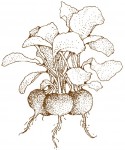 To Register for this event, please send your name and contact information to Crystal Stewart at: cls263@cornell.edu
Join us for a one day winter school specific to Organic production!Hear from panels of experienced growers and industry experts about the following topics:

> Precision cultivation
> Cover crops and tarps for weed suppression
> Biocontrols: how do they actually work?
> Scaling up and paring down: should you grow fewer crops, better?
> What do I need to know about worker protection standards?


Lunch will be provided.

Agenda:
8:45-9:15: Sign-In
9:15-9:25: Welcome and Introductions
9:25-10:30: Precision Cultivation Tools- Eddie Clevenger, Hudson Valley Farm Hub and Max Morningstar, MX Morningstar Farms
10:30-11:00: Worker Protection Standard Update- Cathy Ahlers, New York State Department of Environmental Conservation
11:00-11:15: Coffee Break
11:15-12:15: Biopesticides and Biocontrols- Alyssa Collins, Penn State University Department of Plant Pathology
12:15-1:00: Lunch
1:00-2:00: De-Diversifying Production- Jody Bolluyt, Roxbury Farm, Sue Decker, Blue Star Farm and TBD
2:00-3:00: Alternatives for Weed Control- Jean-Paul Courtens, Hudson Valley Farm Hub and Ryan Maher, Cornell Small Farms Program
3:00-4:00: Scaling Up Markets and Systems- Matt Linehan, Sparrow Arc Farm and TBD
4:00-4:30: Wrap Up

Organic School Flier (PDF; 382KB)