Event Details
Date
June 21, 2017
Time
5 pm-7pm, Potluck 7 pm-8 pm
Location
Hudson Valley Farm Hub
1875 Hurley Mountain Rd
Hurley, NY
Cost
This event is free.
Host
Eastern New York Commercial Horticulture
Pre-Registration Deadline: June 20, 2017

EVENT HAS PASSED
Garlic Twilight Meeting
June 21, 2017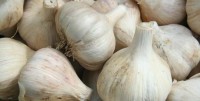 The field meeting will start and end at the Farm Hub office with a trip to the field to view the garlic research plots. Wear appropriate shoes and bring any samples in sealable bags. Potluck dinner to follow.
(PDF; 1496KB)