Event Details
Date
June 21, 2017
Time
5 pm-7pm, Potluck 7 pm-8 pm
Location
Hudson Valley Farm Hub
1875 Hurley Mountain Rd
Hurley, NY
Cost
This event is free.
Host
Eastern New York Commercial Horticulture
Garlic Twilight Meeting
June 21, 2017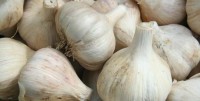 The field meeting will start and end at the Farm Hub office with a trip to the field to view the garlic research plots. Wear appropriate shoes and bring any samples in sealable bags. Potluck dinner to follow.
(PDF; 1496KB)