Event Details
Date
August 1, 2017
Time
6:30- 8:00pm
Location
Cornell Willsboro Research Farm
48 Sayward Lane
Willsboro, NY 12996
Cost
This event is free.
Host
Eastern New York Commercial Horticulture
Summer Grower Meeting
August 1, 2017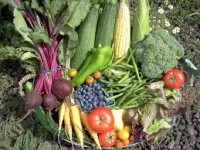 Featured Topics:
Growing Red Bell Peppers and Cherry Tomatoes in High Tunnels
High Tunnel tomato fertility management
Updates on this year's pests and disease challenges
Group discussion â€" bring your questions!

Speakers:
Judson Reid, Cornell Vegetable Program
Amy Ivy, Eastern NY Commercial Horticulture
Michael Davis, Cornell Willsboro Research Farm

Free and open to the public.
Light refreshments will be provided.

For more information contact Amy Ivy at adi2@cornell.edu or 518-570-5991.
No formal registration necessary, but it would be helpful to let Amy know by email, text or voice message at the number above if you're coming.