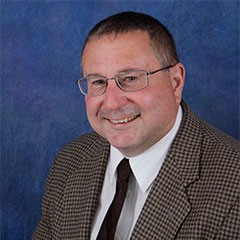 Dan Donahue
Tree Fruit Specialist
CCE ENYCHP
3357 Route 9W
Highland, NY 12528
phone 845-691-7117
cell 518-322-7812
email Dan
Areas of Interest
Horticulture, orchard management, post harvest technology
Crops
Apples, Apricots, Peaches, Pears, Plums
Dan brings a varied background of experience to extension outreach and applied research in tree fruit production for the Eastern New York Commercial Horticulture program. After receiving his undergraduate degree from Cornell University and a master's degree from Virginia Polytechnic Institute in entomology, Dan has worked in all aspects of the tree fruit industry, including production, processing, marketing and sales. He will be providing support to the tree fruit industry in the Hudson Valley.


Upcoming Events
High Tech Precision Orchard Spraying
July 20, 2020
Join us the afternoon of July 20th to learn what's new in orchard precision spraying technology. We'll be joined by Dr. Jason Deveau, Dr. Heping Zhu, and Steve Booher. After their presentations, we will open up the meeting for all three presenters to field questions and comments.
Announcements
Podcasts